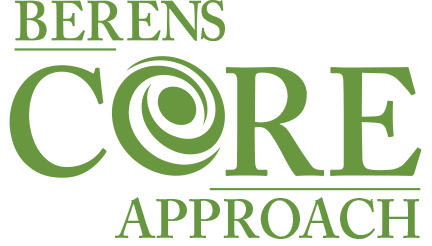 Join an elite group of people. Become Berens CORE™ Approach Certified.
Tools and Practices for Transformational Leadership, Culture Change, and Coaching
With our innovative learning model, you'll be empowered to put the Berens CORE approach to work, transform your own mental health and happiness, and change the world.
The Berens CORE™ Approach Certification Program is a comprehensive blended learning program especially designed for people who are passionate about helping others become agile in their interactions, communications and self-leadership. Whether you're interested in learning about the power of personal agility, launching a meaningful new career in human agility coaching, or even changing the world, we will empower you to transform your life and achieve your personal and professional goals.
Our comprehensive curriculum includes an in-depth study of human motivation, interaction, and communication; coaching and facilitation techniques; and established best practices with real-world applications. Our unique integrative CORE philosophy takes an Integral, holistic approach to individual and organizational wellness and encourages candidates to consider Centering, Opening, Relating and Expanding as essential to achieving Human Agility.
What's required of me?
On-demand modules and assessments
Participation in live, online group practitioner sessions
Attend the in-person Berens CORE™ Approach Certification Workshop
What will you learn?
The basic rules of our most hidden unconscious operating systems—our unconscious automatic ways of being—so you can target training, coaching, and organizational results to meet these rules

Interaction Styles
Essential Motivators
Cognitive Dynamics and Cognitive Styles

How to help individuals accurately identify their own personality patterns and dynamics while launching them on a journey of ongoing self-exploration and self-authoring
The connection between our unconscious operating systems and stress
Stress prevention and management practices
Practices to embody this understanding in every day life
How other aspects of our being such as development and our life conditions influence our agility and sense of well-being
How to use personality type to generate deep transformational change
How to use typologies and the Berens CORE Approach to foster development
How to foster perspective taking to improve communication and relationships in teams, organizations, and personal relationships
How to hold the space for deep exploration of multiple lenses and perspectives
The interplay of multiple lenses to get to the root cause of many of life's challenges
How to integrate the typology tools you may already be using, such as the MBTI® instrument and other tools
How to use the powerful Matrix Insights Leadership and Team Development software with the mapping process
How to increase Human Agility, while staying true to the CORE
What if I Have Questions?
You can email your questions to support@lindaberens.com. If you'd like to discuss the program with an expert over the phone, you may call Stephanie at: 714-623-8756.
714-623-8756