This page is being revised, so please contact us for the most up to date information: support@lindaberens.com
Tools and Practices for Transformational Leadership, Culture Change, and Coaching
The Berens CORE Approach Certification Training is the only 9-month, breakthrough program for taking your practice to a whole new level. We help you leverage the certifications and tools you already have in your toolkit and give you a distinct advantage in the marketplace.
NEW! You'll get a 1-year license for the innovative Matrix Insights tool for your own use as part of your pre-work and then application support for effective relationships, communication, teams, and development using the multiple lenses of type. You also get 5 one-year licenses for clients (or friends) so you can practice using the tool in your work and get follow-up coaching as part of the performance support.
Learn with the creator of the Integrated Multiple Model approach to type that gives more ways to interact with and help your clients. The Berens CORE™ Approach Certification Training gives you the knowledge base and the tools used by leading type practitioners in the world. The Certification Training is a blended learning program that includes pre-workshop preparation using the innovative on-line tool from Matrix Insights—a digital solution for increasing self-leadership, improving communication and relationships, and managing your own development; 5.25 days of experiential in-person and in-depth work; and follow-up workshops on how to facilitate the Berens CORE Approach with individuals, teams and for leadership development for outstanding results. You will have unlimited access to the 10 recorded  Communication Zone® workshops for review, and 4 Berens CORE Approach Facilitation Essentials web-based workshops as performance support.Completion of this workshop and post workshop requirements will qualify you as Berens CORE Approach Licensed. This workshop can lead to becoming The Communications Zone® Certified and/or  Berens CORE Approach Certified.
If you think you have already completed the equivalent of the Mastering the CORE of Self-Leadership workshop and other portions of this training, you may qualify for a reduced fee. Contact us at 714-625-9475  to discuss other options.
Interstrength Alumni: be sure to contact us to discuss how to bridge to certification in the Berens CORE™ Approach from what you experienced before. APTi Members are eligible for a special discount. Call 714-625-9475 or email info (at) lindaberens.com.
Times:
The in-person component is 5 days. The workshop hours are from 8:30am – 5:30pm Expect to spend at least one hour each evening on homework. On the last day of the Facilitation module, the workshop ends at 4:30.
Dates:
You must attend all days of the workshops in their entirety to qualify for either licensing or certification.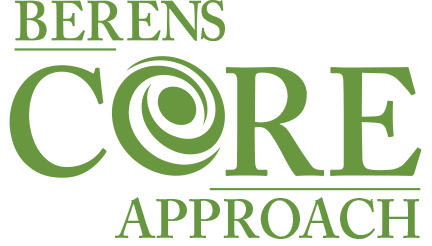 In this blended learning training you will gain knowledge and skills to help individuals get to the core of who they are so they can become more self-aware and more consciously agile—essential qualities for self-leadership, teamwork, and leadership. The Berens CORE™ Approach is an integrally based methodology that incorporates the powerful and practical lenses for understanding individual differences—Essential Motivators (aka Temperament) and Berens Interaction Styles. These lenses can be used by themselves or in an integrated way to facilitate self-discovery and with applications for teams, leadership development, and personal mastery.
Each of these lenses brings different information to understanding yourself and others. They are easy for your clients to grasp and remember, making your work more sustainable.
The Why. Essential Motivators (aka Temperament) tells us our deep motivations—Why We Do What We Do. The Integral Type approach to temperament describes core psychological needs, values and talents. It builds on David Keirsey's integration of over 25 centuries of descriptions of patterns of human behavior.
The How. Berens Interaction Styles tells us how we interact with and influence others—How We Do What We Do. This lens addresses core psycho-physiological drives that express physically as well as emotionally. It bridges psychological type with DISC and Social Style models.
The What. The Cognitive Dynamics lens brings some very powerful information to the understanding of individual differences—What information accessing and evaluation processes we preference when we think about things. This lens stems from a deep understanding behind what the personality type code really stands for. It is based in the work of Carl Jung and the archetype work of John Beebe and gives us a map for shadow work as well as other applications.
With these lenses, you can improve your ability to identify best-fit type as well as gain applications to coaching, leadership, and teamwork. We give you the tools to get what you need.
–    Theory
–    Applications
–    Awareness
In this blended learning program you will learn how to use the Berens CORE™ Approach with individual clients as well as to deliver workshops in a variety of lengths and formats in your coaching and organizational development work. Benefits of using this approach include:
Deep insights and multiple perspectives that foster development
Improved empathy, communication and interpersonal relationships
Enhanced team performance through appreciating differences
Powerful results
The Berens CORE™ Approach involves
The integration of multiple models or lenses that help us understand ways we are different and ways we are alike. These lenses provide windows on the whole of who we are and the various ways we have of making sense of the world. Each lens can be an entry point into helping individuals, teams and organizations understand and optimize diversity.
The Self-Discovery Process that promotes awareness so we can make more conscious choices. This process can be used with personality instruments as additional data points or, when appropriate, without an instrument.
Essential Elements about how to teach people to use the type lenses for development and to improve communication, relationships and organizations.
For end users, the goal of the Berens CORE™ Approach is to facilitate the most powerful interpersonal process available—perspective taking—while helping individuals develop the self-awareness to manage the tensions between their own interests, the interests of others, and the interests of the whole (team or organization).
For change agents, the goal of the Berens CORE™ Approach is to integrate multiple frameworks into a more complete view of the whole person and the contexts in which the person operates. It has the potential to address all our experiences — internal, physical, cultural, and social. This includes and goes beyond the Interstrength Method as well as best practices for using instruments such as the Myers-Briggs Type Indicator® tool.
Who Should Attend
Coaches, Trainers, Facilitators, Consultants, and Organizational Development professionals who want to make profound, sustainable, and impactful differences in the lives of the individuals and the organizations they serve
Professionals who are already qualified to administer the MBTI® instrument and/or other assessments who want to expand their tool kit to include a more comprehensive model with a variety of approaches and integrated applications for individuals, teams and whole organizations
Those who have been trained in the Interstrength Method who want to deepen their knowledge and learn new applications and skills (call 714-625-9475 for special refresher pricing)
What You Get
5 one-year licenses of the innovative Matrix Insights tool to use with clients.
Comprehensive workshop binder
1 year of free participation in the Community of Practice ($240 value)
480+ page Guide to Facilitating the Self-Discovery Process—Temperament, Interaction Styles, and Cognitive Dynamics (>$500 value)
Animated PowerPoint that you can incorporate into your other programs (>$1000 value)
Booklets and job aides including five Understanding Yourself and Others booklets and Communication Clues cards. (>$150 value)
An Introduction to the 4 Temperaments, 4.0 (Essential Motivators) by Linda Berens
An Introduction to Interaction Styles, 2.0 by Linda Berens

The Sixteen Personality Types—Descriptions for Self-Discovery by Linda Berens and Dario Nardi

An Introduction to the Personality Type Code by Linda Berens and Dario Nardi
Character and Personality Type, by Dario Nardi
Temperament Card Deck
Fee includes 1 year new or renewal membership in the Association for Psychological Type International ($110 value)
4 Facilitation Essentials Web-Workshops ($1140 value)
Links to the 10 Communication Zone on-line workshop recordings to use as a review and just in time learning. ($900 value)
Option to add on Certifications in
The Communication Zone® Workshop
The Interaction Essentials Workshop
The Essential Motivators Workshop
The Type Connection Workshop
Note: These certifications may incur further study and demonstration of competency and a reasonable cost for assessment.
Facilitator processing of pre- and post-workshop requirements. ($500 value)
Continental breakfast and break food each day
What You Will Learn
Awareness

Identify and clarify your own core needs, values, talents, drives, beliefs, aims and behavior patterns
Identify and clarify your preferences for information gathering and decision making as well as your type development pattern
See when to use each model for different client needs
Learn clues to identifying the temperaments, Interaction Styles, and full type of others
Learn clues to identifying the use of each cognitive process and the cognitive dynamics patterns of others

Practical tools for applications

Learn a method to help others identify and clarify their innate temperaments, Interaction Styles, and preferred processes for accessing information and making decisions
Learn a method to help others identify and clarify their innate preferences for information gathering and decision making
How to integrate all the models with your work with type and personality type instruments such as the MBTI™ tool
Learn tools to help people develop more effective communication strategies
Learn tools to help people identify their leadership strengths and blind spots
Learn tools to help people work together better in teams

Comprehensive theory

Learn the fine points of the temperament model of individual differences and how it relates to psychological type and the type code
Learn the fine points of the Interaction Style model of individual differences and how it relates to psychological type, the type code, and Social Styles
Learn the fine points of the Cognitive Dynamics model of individual differences and potential coaching and development applications
Fee
$3495 for the training, which includes all pre-work, the 3-day Mastering the CORE of Self-Leadership workshop, the additional 2-days focusing on facilitating workshops and coaching for individuals, teams and leadership development, and 4 Facilitation Essentials Web-Workshops, exams, and licensing. You will also be given access to the 10 Communication Zone workshops for review. This fee is a savings of more than $2440 if purchased separately.
10% discount for APTi Members and Radiance House Customers (only 1 discount applies). Contact us at 714-625-9475 for coupon code.
If you have already completed the Mastering the CORE of Self-Leadership workshop or equivalent and/or the Facilitation Essentials series you will be eligible for additional discounts.
Contact 714-625-9475 or info(at) lindaberens.com for registration, pre-requisite equivalent and discount information.
The Communication Zone® Certification Completion
Attend all of The Communication Zone on-line workshops related to Interaction Styles and Essential Motivators (7 workshops) (included in your fee) or the in-person The Communication Zone workshop for a small cost. Attend a web meeting on how to facilitate The Communication Zone workshop.
Fee: $500, which will give you the certification badge to add to your resume and website and the actual PowerPoint slides, and license to purchase The Communication Zone handout to use with participants.
Berens CORE Approach Certification Completion
Certification requires more than a workshop. It is a comprehensive program with a full year of performance support after the intense and fun classroom learning sessions. This performance support helps you meet the competency standards, and post workshop requirements and exams. It is also a life transforming experience. There is an additional fee of $1500 for completing certification if you add it on later. Or you can sign up for it as a single package for $4795.
Learning Path for Certification in the Berens CORE™ Approach:
Complete assigned prework
Complete the Facilitating the Berens CORE™ Approach Training
Upon successfully passing the self-study, theory exam, and ethical use of instruments exam, you will receive the animated PowerPoint slides to develop your own workshops.
Participate live in at least nine 2-hour case consultation web-meetings/calls. Present your own case about a workshop you conducted at least once during the series. Other cases can be one of a client you are helping with self-discovery or workshop design questions.
Successful completion of evaluation process when you are ready. Certification can happen as soon as you meet the requirements. Some candidates will be ready earlier than others.
Join this elite group of practitioners.